This IUMRS-SOMIYA Award is named in honor of Professor Shigeyuki Sômiya. IUMRS manages this award program for encouragement of active international collaboration in materials science field. In this time, five active teams applied to this selection.
Past two award winners examined all application forms on the basis of following three criteria.
The team to be honored must have collaborated across at least two continents some time during the last decade.
The collaborative work must be of the highest quality and well recognized by the international materials community.
The impact on technology or society is also a major factor.
The award commission chair Professor Robert Chang officially approved examination reports.
Then IUMRS-SOMIYA Award 2017 goes to following collaborative work and team.
Award winning work;
Semiconductor Nanowires: Growth, Characterization, Processing and Optoelectronic Devices
Team leader: Professor Chennupati Jagadish (Australian National University, Australia)
Members:
Professor Leigh M. Smith (University of Cincinnati, USA)
Professor Michael B. Johnston (Oxford University, UK)
Professor Jin Zou (University of Queensland, Australia)
Professor Antonio Polimeni (University of Rome La Sapienza, Italy)

On 30th August from 5 pm, the award ceremony was organized at Yoshida Campus.
Photographs are beautiful smile of winners and award presenter.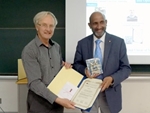 Left: award presenter Professor Jim Williams
Right: Team leader Professor Chennupati Jagadish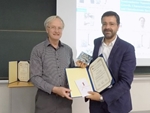 Left: award presenter Professor Jim Williams
Right: Team member Professor Antonio Polimeni